Joyce (english)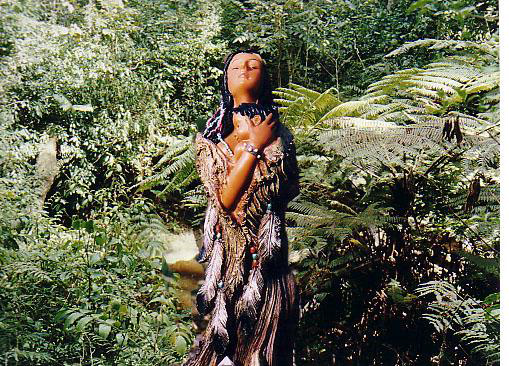 I got to know Joyce in 1991 through a Swedish friend working and living since many years in Rio de Janeiro, Brazil.
My friend wrote:
"She is absolutely lovely, light Negress in 10 years of age.
We speak most of gnomes. she wants to know everything about them. I have promised her cards on them, but no one in Sweden have sent any…
Joyce wants to paint them on postcards to make her livelihood. I dare not to ask her so much about her own life. She is easily hurt and answers – what is the meaning of telling that? She is a street child and lives according to her under a big tree in a park… , here the misery is terrible, no one cares for street children…
Joyce gets small money from postcards that she makes a and sells…"
So far my friends story, a little look in her letter to me.
When I myself was about to send Christmas cards to my friends in Sweden the same year, ( to send just out of an old habit, because others send to me) I suddenly thought: "Joyce is the most important person in the world to get Christmas cards this year!" So I bought a number of them (with gnomes) and sent to my friend in Rio to give to Joyce. She returned through my friend two cards she painted herself with the words "I love you" and a few tiny dolls, made of yarn, matches and wire…
I never met Joyce personally, but had for several years contact with her via my friend in Rio. Joyce was a very strange child, she had a clairvoyant vision, and could many times se things "hidden in the mist". On several occasions she told me things both about myself, my friend and others which stunned us.
Despite her young age, Joyce had a whole group of about ten street children, younger than her, the youngest just a couple of years old, around her and she was like a "Mother" to them. They all lived in the street and cooked the food they managed to get over small fires in empty cans, they used as cooking pots… several children were sick and died…
Now Joyce is dead…, I recieved the news of her death in the fall of 1999, when I worked as an aid worker in East Africa/Tanzania. My friend told me that Joyce suffered from tuberculosis. She died from lung bleeding on a street in Rio.
The dolls below Joyce sewed herself and I got them as a present from her in 1995.
Enjoy them, they hold more power than all the bombs in the world… 😉

22°57′7″S 43°12′38″V